Gaslog Ltd (NYSE: GLOG)-- Value Situation Turns Into Merger Arbitrage Opportunity
Summary
GasLog Ltd (GLOG) management has tied up with BlackRock as a potential buyer of the public share count
We strongly encourage GLOG shareholders to reject the takeover offer at the next proxy meeting and demand an equitable compensation, in the range of $7-8/shr, to take the company private
This article focuses on the background of GLOG and why the intrinsic value of the shares in well in excess of the amount current offered by BlackRock
Background/Share Price History
LNG carrier GasLog (NYSE:GLOG) saw its shares trading at an all-time high of $30 back in 2014 when the company held 18 vessels (compared to today's 35) and generated half the EBITDA per share. Trading at $15 as recently as October 2019, the share price has plummeted along with in an overall rout of the oil & gas market. The company has paid consistent quarterly distributions since IPO in 2012, including special dividends of $0.40 in both 2018 and 2019, but was compelled to cut back the quarterly distribution from $0.15 to $0.05 (where it stands currently) at the onset of COVID-19 in May 2020, coinciding with the final leg of its fleet expansion program.
IDR Buyout
In June 2019, GLOG cashed out their IDR's with daughter GLOP via cash and stock amounting to $125M, representing a multiple of 12x on best-case projected distribution IDR's by 2025. Clearly, this was a fair, if not lucrative, transaction for GLOG holders. Post transaction, GLOG owns 35.6% of GLOP, resulting in a share value of $61M at the current market cap. The value of these shares could be volatile, given the lack of long-term charters in GLOP, however the current boom across the winter spot market provides some optimism in the near term that older steam vintage vessels could yield adequate returns. Nevertheless, the majority of GLOG value comes from its owned fleet of TFDE and XDF vessels.
Fleet Status
Traditionally supplying vessels solely to Shell's trading and project portfolio, GLOG is diversifying its customer base in recent years, adding Cheniere and several trading houses to their portfolio. The list of strong counterparties bodes well for GLOG's ability to refinance secured debt coming due in the next few years.
Half of GLOG's fleet consists of the latest-generation XDF propulsion type. The average charter length for GLOG's wholly-owned fleet (not including GLOP) is 5.2 years, with most charters containing extension options of at least 2 years.
This compares to peer Teekay Partners (TGP) as we recently reported averages 4 yrs and 14 yrs for the wholly-owned fleet and joint venture fleet, respectively. As a result, GLOG's backlog is more concentrated in the North American newbuild charters, whereas TGP's is more dispersed across vessels, regions, and expirations.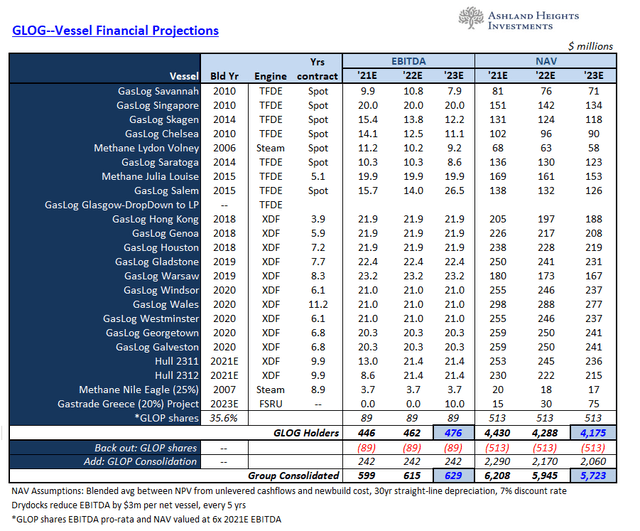 Figure 1. Fleet data and financial projections (Source: GLOG investor materials with Ashland financial estimates)
GLOP's fleet consists of 5 Steam vessels (vintage 2006) and 10 TFDE vessels. GLOP took a $162M non-cash impairment charge against its steam fleet as a result of spot price weakness in 2019, with management using an assumption of $40k/d average rates, down from $50k/d the year prior, and compared to cash break-even of $35k/d (GLOP 3Q20 pres, pg 35).
Capital Structure
In a final push to finance the remaining newbuilds, GLOG Chairman and controlling shareholder Peter Livanos issued new common shares amounting to 18% of the float via private placement at $2.50/share. While the dilution to the equity was not ideal, it is a simply a modest haircut to an otherwise promising value proposition, and came at a critical time as the company was navigating the final piece of the newbuild program amid the ongoing pandemic.
We analyze GLOG capital structure as management presents in SEC filings, on a GLOP consolidated basis with an equity allocation for Non-Controlling Interest (NCI) to represent the public float of GLOP shares. This is a reasonable assumption given the degree of control that GLOG exerts over GLOP's dealings and the proportion of ownership, as mentioned.
GLOG has $115M face value of fixed rate 8.75% Preferreds outstanding, amounting to 4% of capitalization, which trade near par and are presently callable. Interest rate on debt averages 5%.

Figure 2. GLOG Capital Structure (Source: Company SEC filings, Ashland compilation and projections)
For balance sheet ratios, we consider full consolidation with GLOP, inclusive of the NCI. Debt to capital is currently 72%, which we expect to reduce to 62% by 2024, as both GLOG and GLOP allocate post-distribution cash flows towards debt reduction. This is a healthy leverage, in our view, given the large proportion of backlog relative to debt. For a more spot-focused entity, such as GLOP, a comfortable debt ratio would not exceed 60%. Price to Book Equity currently stands at 60% for GLOG holders.
Valuation
As with capitalization, we are evaluating profit & loss on a consolidated basis and deducting NCI to arrive at GLOG shareholder earnings.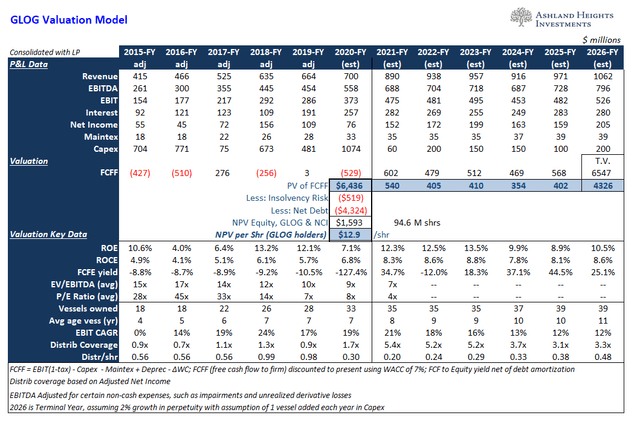 Figure 3. Valuation model (Source: Past data from Company with Ashland adjustments and projections)
Our projections for year 2026 serve as the terminal year for valuation purposes and includes six additional newbuilds delivered in the 2024/25 timeframe with company profits estimated to grow in perpetuity at 2% (aligned with our estimate of the risk-free rate). We view a terminal growth rate in line with the general economy as appropriate for GLOG and LNG shipping in general, given the projections for long-term growth in natural gas demand worldwide, for example from the IEA, whose energy outlook has natural gas gaining market share through at least 2040. Alternatively, in the scenario where renewable energy accelerates much faster than anticipated, LNG shipping firms would likely take their expertise in shipping cold gases and pivot to transportation of carbon-free molecules, such as hydrogen or ammonia, as part of the green energy economy.
In the terminal year, maintenance expense is assumed to be $1M per vessel and Capex of $200M, sufficient to purchase one vessel and grow EBIT at a rate of 2% annually.
Taking the present value of future cashflows to the firm (unlevered cashflows), we calculate NPV of $12.9/share. This figure includes a risk adjustment component consisting of 20% probability of insolvency and liquidation. We believe that cashflows to the firm is a more appropriate model than computing directly the cashflows to equity, since changes to leverage and interest expense can skew the latter. And it serves as a reminder that the assets are primarily funded by debt with a majority of the cashflows going to service such debt.
In addition, we value the shares using net asset value (NAV). Values are derived from the net present value of charters for term-chartered vessels, and depreciated book value for spot/short-term vessels. We do not include scrap value which could, as a result of increasing value of steel and vessel repurposing, provide further upside to our NAV estimates. Nor do we consider "market" price assessments of the vessels since, in our view, this represents a company liquidation value and not the true earnings power of each vessel. In general, we assume a useful life of 30 years and discount using the weighted average cost of capital.
Today's fleet, inclusive of the soon-to-be delivered vessels, yields NAV to equity holders of $11.7/share (Figure 4). That the NPV of cashflows exceeds NAV is a sign that incremental vessel purchases are providing returns in line with and exceeding the cost of capital.
To consider a bearish scenario, we set the NAV at depreciated book value for all vessels-basically assuming that each unit is worth only the price paid for it, with no scrap value. Even this stress-tested scenario yields a value per share more than 10% above the current share price.

Figure 4. NAV per share calculations (Source: Company Data with Ashland Calculations)
LNG & Carrier Market Developments
2020 was a wild year in the LNG commodity markets with JKM spot prices reaching a low of $2/MMBtu in Spring and then swinging up to as high as $30/M in Winter 2020/21. Similarly, spot rates for charters swung from a low of $20k/d to a high of $200k/d during the winter crunch (Figure 5). The price spike was caused by a confluence of factors-cold winter in East Asia, COVID-induced delays among newbuilds, congestion in the Panama Canal, and unprecedented Europe/Asia price arbitrage.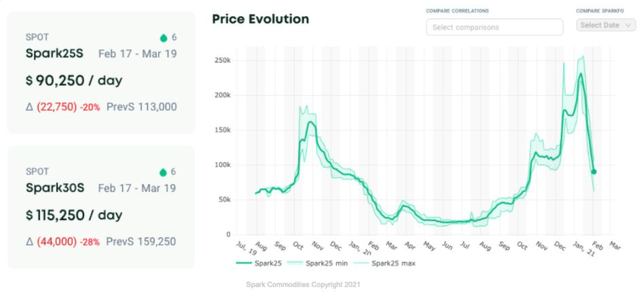 Figure 5. LNG Carrier Spot Rates (Source: Global LNG Hub)
LNG export project completions are tapering off after a large boost in 2019 from several U.S. projects coming on line. In terms of new project sanctions, only the small 3 mtpa Costa Azul Mexico project declared FID (Final Investment Decision) in 2020. And just a few days ago, Qatar Petroleum gave the green light on its massive 33 mtpa North Field expansion project, which is expected to startup in late 2025, with an option to expand even further by 16 mtpa. Altogether, this would place Qatari capacity at 126 mtpa, a 30% market share on projected global volume. Qatar has taken the approach to handle most shipping charter in-house by securing newbuild slots in the Asian shipyards. Given the obvious financial prowess of QP, it is not a matter of whether it can handle the shipping alone-it is more a matter of new carrier management, where it lacks experience given its aged Steam fleet. It is estimated that the Phase 1 North Field Qatar volumes will require at least 50 new vessels (1.5x mtpa). We think it is likely that QP will handle a majority of these vessels in-house, but also inevitable that joint venture tenders will be released and other owners will participate in the shipping aspect of the project, bringing much needed operational expertise of the MEGI/XDF engines, boil-off handling, and modern ship management.
Structurally, the vessel market remains as it did before the winter crunch, with a modest tonne-mile demand growth supported by healthy orderbook, which currently stands at 18% of the operational fleet. Important to point out is that about 20% of the global fleet is not fixed on term charter-this is the group of vessels that will vie for the spot contracts in the coming months. Also, there are still 80 vessels, representing 15% of the global fleet, which were built pre-2000. A relatively large number of newbuilds hitting the market in the 2022-23 timeframe (Figure 6) will be partially tempered by seasonal Canal congestion and floating storage deployments. Another bullish theme for shipping is the development of smaller/break-bulk importers from nations in the Asia-Pacific region, such as Thailand. Additionally, the important U.S. to East Asia trade route is expected to grow (Figure 7) as China is actively building receiving terminal capacity with expectations to grow by 48% by 2025 to become the world's largest importer. Meanwhile, Europe needs to restock its depleted storage volumes (Figure 8). We feel that the spot market will remain steady in 2021 for these reasons, however, extending further through 2023 we see some weakness until substantial new LNG commodity volumes flood the market in 2024 and 2025. Therefore, we see 2021 as a critical time for GLOG and other owners to lock their spot ships into time charters.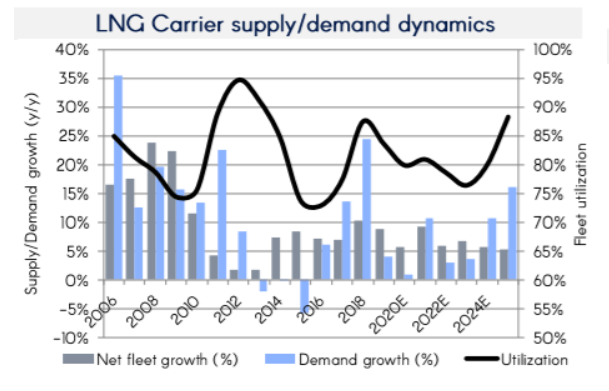 Figure 6. LNG Carrier Supply/Demand (Source: Cleaves Securities, Report 6 2019 pg. 49)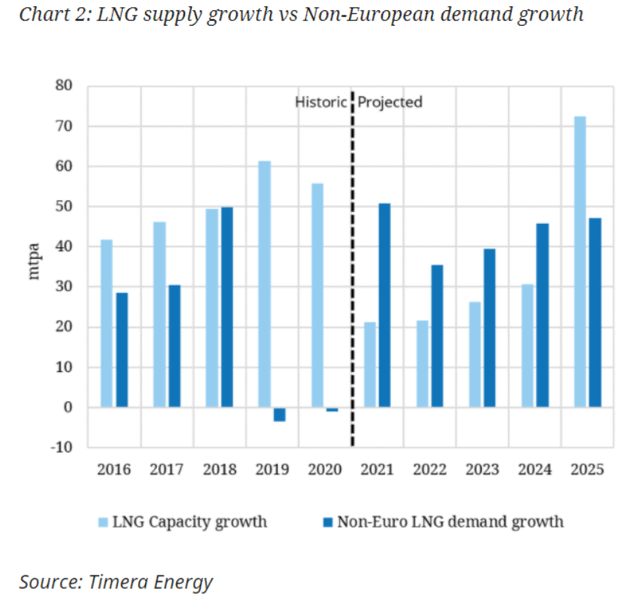 Figure 7. Non-Euro (predominantly Asian) Demand Growth (Source: Timera Energy)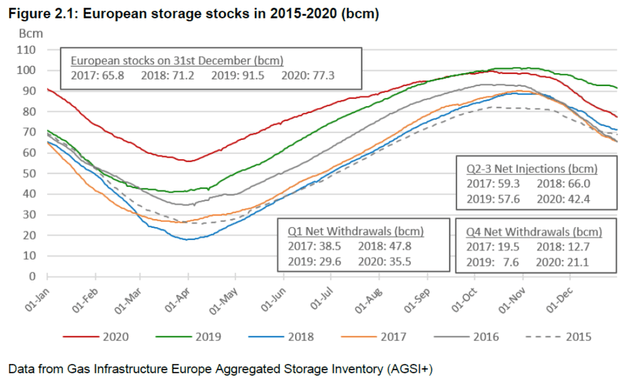 Figure 8. European gas storage (Source: OIES Quarterly 2021 pg. 13)
Future Outlook and Risks
We believe that LNG as an energy source holds a place in the ESG investing era. It is apparent that the attractive characteristics of LNG as a fuel are not easily replicated with existing technology, be it via utility-scale renewables, hydrogen, or other nascent technologies. Furthermore, developing nations, primarily in the Asia-Pacific region are reliant on cheap fuel sources to grow their burgeoning industrialized economies in way that is sensitive to cost, while at the same time, not overly detrimental to the environment.
The risk of technology obsolescence of LNG and the associated transport vessels should not be taken lightly, however, given that new vessels are required to have a 30-year useful life. In the end, we feel comfortable with the risk, given the recent pullback in stock prices, further augmented by our valuation analysis which is probability weighted for such unfavorable scenarios.
Analyst Ratings & Potential Catalysts
GLOG has garnered 5 Buys, 3 Holds, and 2 Sells, with an average price target of $5 and a highest target of $10. Analysts are expecting 2021 revenue of $745M with EPS of $0.80.
Our estimates of 2021 consolidated revenue and EPS are $800M and $1.00, respectively, with a long-term price target of $10/share as illustrated in Figure 9. Going forward, our price target will be influenced by GLOG's ability to recharter vessels at rates above cash breakeven and for durations that cover the expected weakness in the 2022-23 timeframe.
We believe the negative optics surrounding GLOG taking non-cash impairment charges through GLOP in 2019 together with previous uncertainty around newbuild financing were the key factors in the precipitous in share price drop in 2020. However, with a rising spot rate environment being supportive of GLOP's older vessels and GLOG's newbuild financing strategy all but realized, we see the company's reporting of fiscal 2020 earnings as a potential catalyst for the share price to reset upwards. Our projected EPS when multiplied by a minimal forward P/E ratio of 6x yields a 12-month share price target of $6.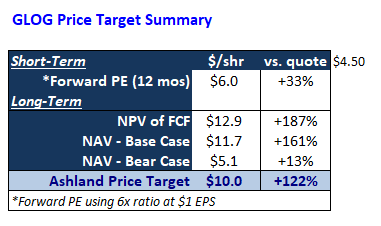 Figure 9. Price Target Summary (Source: Ashland calculations)
We believe analyst estimates for 2021 are not fully considering the spike in spot charter rates which occurred this winter, and the GasLog Warsaw vessel which begins a new charter with Endesa in summer 2021, at what we believe will be an attractive charter rate with minimal repositioning time.
Over the longer term, we expect the LNG story to continue to play out with the wave of ESG investing, as a means to bridge towards lower carbon energy sources and potentially carbon-capture, a scenario in which LNG could receive arguably an even further boost to demand.
The long-term value of GLOG shares are at least $10/shr, in our view, however an acquisition deal offering $7-8/shr would be an adequate compensation in the interim.
-----
This publication is provided for informational purposes only. The opinions expressed herein are those of the individual author, and do not represent the opinions of any other employers or affiliates. The information provided herein is not intended to and does not constitute legal, financial, investment, accounting, tax, or any other type of professional advice, and should not be relied on as such by any recipient. None of the information contained herein should be used as a substitute for consultation with competent advisors. All information contained herein is provided "as is" without any express or implied warranty of any kind. While reasonable efforts have been taken to present accurate factual data from a variety of sources, no representation or assurances as to the accuracy of information or data published or provided by third parties and contained herein is made. The author, and its affiliates, and their respective officers, directors, members and employees shall have no liability in contract, tort or otherwise to any third party. The information set forth in this publication is for the internal use of the subscriber. The information contained herein is proprietary, and any duplication or distribution of such material to any third party is expressly prohibited absent the prior written consent of the author. The copyright for any material created by the authors and all other rights are reserved.